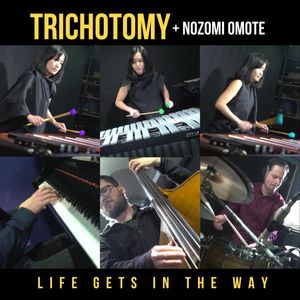 Our next piece of new music is the second in our collaboration with the awesome percussionist Nozomi Omote. We have been fortunate to gain funding from Moreton Bay Regional Council as part of their RADF CONTINUE CREATING program, and this second work completes the mini release. 
Written by Trichotomy drummer John Parker, "Life gets in the way" (originally from our String Quartet album) has been reworked for trio + 4 part percussion ensemble. 
Here's where it gets cool... This is a multimedia release, so it consists of the audio track - available on Bandcamp, plus the digital sheet music for each instrument AND downloadable backing tracks - so you can get the sheet music and play along with the band. Sweet! That's for ANY of the instruments.. so you can play the bass part, piano part, or some of the percussion parts  - VIBRAPHONE or MARIMBA. Perfect for high school percussion ensembles.. 
Full details below and where to grab the audio and sheet music and don't forget to watch the studio video of us playing the song!! (See above) 
LISTEN/BUY the AUDIO - "Life Gets in the Way" - https://trichotomy.bandcamp.com/music
BUY "Life Gets in the Way" - MULTIMEDIA PACK: Scores for ALL instruments,  backing tracks and in studio video at PREPARED SOUNDS - 
www.preparedsounds.com.au/store/index.php?route=product/product&product_id=120 
Did you hear our first track with Nozomi?? We released it late last year - 'That Which is Not Fleeting" 
LISTEN/BUY the AUDIO -  "That Which is Not Fleeting" - https://trichotomy.bandcamp.com/music
BUY "That Which is Not Fleeting" - MULTIMEDIA PACK: Scores for ALL instruments, backing tracks and in-studio video - https://trichotomy.bandcamp.com/merch/that-which-is-not-fleeting-multimedia-release